The indoor 3-D season is rapidly approaching. Hunter's Edge is still finalizing all of its winter season events, including multiple archery tournaments as well as several archery camps and leagues. Check back in mid-December for more information.
Hunter's Edge will also begin calling for the 2018 Winter Leagues around the 1st of December. If you know you are shooting, feel free to send us an email at HEArchery@gmail.com, message us on Facebook, or give us a call at 920.465.9922. Hope to see you soon!
---
Click on the image below to sign up for the AAA Scramble held on January 6th at Hunter's Edge! This event will see the best archers from across Wisconsin compete for a great prize pool.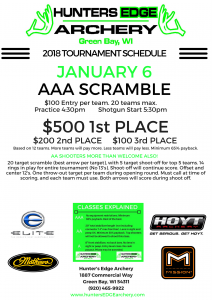 ---
Click on the flyer below to sign up for the AA Scramble  held January 15th at Hunter's Edge!